Want to RENT a home in Arrowhead Lake ?
Search Pocono Lake, PA and Arrowhead Lakes Rentals 800-805-3559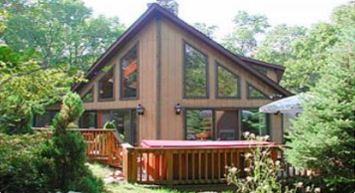 Arrowhead Lake Rentals – There are Two Types of Rentals In Arrowhead Lakes in the Poconos Mountains of Northeastern PA – Located an hour and one half from either New York City or Philadelphia and 2-2 1/2 from South Jersey

There are Vacation Rentals, Called Short Term Rentals
Poconos and Arrowhead Lake Vacation Rentals can be booked through our affiliate site Booking.com by using the reservation system above. On here are vacation home rentals in Arrowhead Lake, generally 2-30 nights. You can search by price or map, reserve and get an immediate confirmation. These homes are in both Arrowhead Lakes and Locust Lakes both located in the Village of Pocono Lake, PA.

There are lake front, lake view and homes in the woods in both of these communities which on next to each other. Arrowhead Lakes has more amenities, but Locust Lake Village is slightly more rustic and more "vacation like"

The reservation process is easy. Do a search, pick out a home and make your reservation online. You will receive an immediate email confirmation. Should you wish to talk to a Poconos Vacation Home Reservation Specialist you can call 800-805-3559 for advice on where to stay and how to make your reservation.

and
Yearly Rentals – for longer than 6 months.
For yearly rentals, you will want to contact an agent at USA Realty who can then guide you through the yearly rental process. This generally includes a credit check, work verification and references. There is sometimes a fee for the credit check and most times there is at least a one month security deposit (sometimes 2 months.)
Renting a home in Arrowhead Lake community in the Poconos means you'll be renting in a neighborhood with amenities like 2 large lakes for fishing, canoeing, kayaking, paddle boarding and pontoon boating (with electric motor), fitness center, gates, adult and children's activities, beaches, tennis, and where you can, in summer, rent a canoe or kayak. Homes here are also near restaurants, skiing, the Pocono raceway and many other Poconos Activities.

Here is the most requested information about Poconos buying or selling:
• The Best Places to Live in the Poconos
• Short List of Short Term Rental Homes For Sale
• List of Poconos Communities (With available homes)